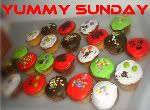 My favorite food ever is
SPAGHETTI
. I love the thick sauce and the spicy sweet blend that matches the meat and the pasta.. Oh so yummy.
Today is my first entry for YUMMY SUNDAY. And since Bogie is celebrating her 10th, I am happy to be part of it by posting my favorite food here.
If you want to be part of this Sunday Food meme, visit
PERFECTLY BLENDED
..